ECO VILLAS METAL HOMES SYSTEMS
We build houses on light steel structure providing in this way durable and affordable solutions for your home.
The metal structures are manufactured by ECO VILLAS METAL HOMES, the profiles are of type C, Z, U, double galvanized steel 275 g, 80-300 mm, 1.5-3.5 mm, which means that these profiles have a high resistance and high stability.
Our strength in company is our team dedicated to their work, which ensures that your vision becomes a reality.


STAGES
Obtain building permit
Before starting to build your house you will need to prepare some documents, such as urbanism (zone planning) certificate, building permit (approvals) and water and sewer agreement, etc., as well as geotechnical study upon which the foundation runs.
Technical project
House design is made by special and professional programs, which emits reports of structural resistance to wind load, snow load, dynamic load and deformation in the event of natural disasters in the case of earthquakes.
Foundation
The foundation will be executed by the client or by a partner of ECO VILLAS METAL HOMES according to a technical plan released by ECO VILLAS METAL HOMES. Because of the light wight of a steel frame structure the house does not require a very large and deep foundation.
Structure mounting and external cladding
When the foundation is perfectly dry you can start build the house. The whole structure of the house consists of C and U profiles, which are made of a high quality stainless steel. The construction phase is about three weeks. On the exterior wall and on the roof will be installed special plates which are resistant to water and fire.
Execution of roof covering
After the installation of the special plates, on the roof will be placed anti condensation foil and over it wood rulers (laths) will be placed which will support the tiles. The tiles and all their accessories will be installed at this point.
Interior and exterior insulation
Interior insulation can be made with high density rockwool or foam. Because metal structure is made of 140 mm wide profiles, you can easily introduce a 100 mm wool. For exterior insulation ECO VILLAS METAL HOMES recommend 100mm polystyrene, which can be easily mounted on boards outside. To isolate the floor ECO VILLAS METAL HOMES recommend to use extruded polystyrene 50mm thick and poured over it a semi-dry screed. This is an ideal method for masking the electric cables and plumbing pipes. With this type of insulation you get a very well insulated house without thermal bridges or heat losses.
Mechanical, electrical and plumbing services
After the execution of the interior insulation the wiring system and plumbing are inserted. The walls of the house are made from profiles of 140 mm that is why besides the 100 mm thick wool there is enough space for the electric cables and plumbing tubes without affecting the insulation of the house.
Interior finishes
Inside the house, above resistance profiles is placed aluminized anti-condensation foil on which are mounted two layers of drywall. These boards will be plastered and painted, in bathrooms may be applied tiles to give your home a unique design. On the outside the house over the polystyrene layer is applied polyacrylate emulsion reinforced with fiberglass mesh. Over this can be applied decorative plaster or stick clinker bricks, or other decorative elements, that provide your home personality.
Price comparison

ECO VILLAS LTD offers you the joy which a well constructed house can give you.
Houses built on steel structures have a number of advantages over the traditional houses.
Here are some benefits of these buildings:
The speed of construction, which is very fast due to the use of prefabricated materials. In approximately 3 months, depending on weather conditions and the difficulty of the project, is fully completed, compared to other traditional brick houses that could require 1 year;
Materials are manufactured by ECO VILLAS METAL HOMES, they are measured and cut accurately, so you get exactly what you want. Because of the extreme accuracy of construction the possible classical defects can be prevented, that is cracks will not appear on the walls.
* With ECO VILLAS METAL HOMES with average finishes you can save costs between 19 – 24 % instead of a brick house with average finishes; and  with luxury finishes you can save between 26 – 31 % instead of Brick house with luxury finishes
* Interior area is 5-8% bigger (you will get a bigger house)
* The prices in the table are actual calculations made after the execution of constructions
* The price of the one floor construction buildings are with 10% higher
* Be careful with the so called cheap companies, which ultimately could become expensive because of the low quality of their work
* Do not forget to inform about the heat transfer coefficient of the house
Heat transfer and sound insulation comparison
As you will see in the table below ECO VILLAS METAL HOMES are more reliable than other traditional houses in terms of the insulation.

Heating costs comparison / systems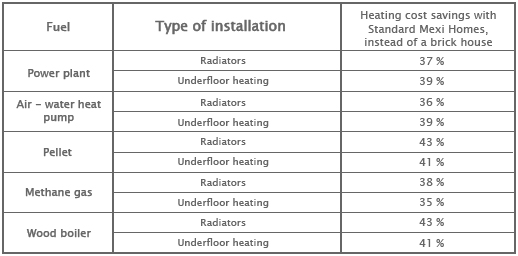 * Savings could increase in case of the passive houses, that is sometimes the savings can increase by 100%.
* The data in the table above are calculated for houses with similar construction costs, that is ECO VILLAS METAL HOMES instead of a brick house (with 10c polystyrene). We choose to publish percentage instead of the costs, because the materials' costs vary from country to country.